diSPIM 
dual-view inverted selective plane illumination microscopy
| | |
| --- | --- |
| | |
Confocal laser scanning microscopy (CLSM) and spinning-disk confocal microscopy (SDCM) provide optical sectioning and are established tools for 4D fluorescence microscopy  (1), but suffer from drawbacks that limit imaging speed and duration: (i) Since only a portion of the focal plane is illuminated at any instant, scanning must be performed in both lateral and axial directions to reconstruct a volume. Rapid scanning in multiple dimensions at high speed increases the likelihood of fluorophore saturation, compromising signal-to-noise at high imaging speeds. Although SDCM parallelizes the number of excitation foci and thus alleviates this problem somewhat, axial resolution and optical sectioning are compromised as a result. (ii) Both CLSM and SDCM excite the sample volumetrically, relying on pinholes for optical sectioning. Out-of-plane excitation subjects the sample to unnecessary photobleaching and photodamage and limits imaging duration.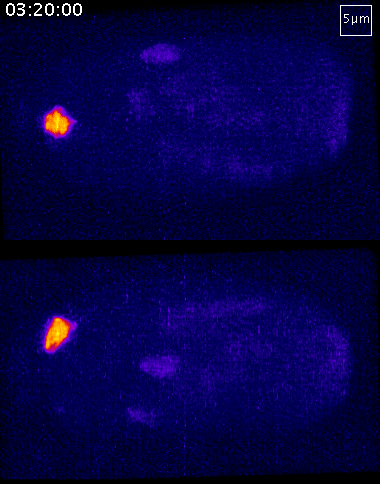 Light sheet-based fluorescence microscopy (LSFM, (2-5)) combines planar illumination with perpendicular detection. The sheet-based excitation employed in LSFM parallelizes excitation to the extent that fluorophore saturation is minimized and high SNR can be maintained at high frame rates. Limiting the sheet illumination to the vicinity of the focal plane minimizes photobleaching and photodamage. Although these advantages result in an imaging system well-suited for 4D studies of development (6), widespread adoption of this technology by the biological community has been slow, mostly because the geometric constraints of LSFM make it more difficult to implement than confocal microscopy.
         Most implementations of LSFM are designed specifically for a single specimen type, usually embedding the sample in agarose and preventing the use of conventional sample mounts, such as glass coverslips. To address this usability issue, we designed inverted selective plane illumination microscopy (iSPIM (7)), a module that provides LSFM capability on a conventional inverted microscope. On nematode embryos, we demonstrated that iSPIM provides 30x the imaging rate of SDCM, at similar spatial resolution and SNR. These advantages enable the imaging of neurodevelopment at unprecedented speed.
        One of the disadvantages of iSPIM is its poor axial resolution (~5x worse than lateral resolution). To address this problem we improved iSPIM by adding a second specimen view (dual-view iSPIM, diSPIM (8, 9)). By registering the two specimen views and applying joint deconvolution, we achieve an isotropic spatial resolution of 330 nm, much better resolving fine features in the axial dimension.  Efforts are currently underway to further improve the overall resolution of the technique, and to improve depth-dependent aberrations by incorporating adaptive optics into the system.
--See a short documentary video on this technology--
--See a seminar by Hari Shroff on this technology and its uses--
1.  Fischer RS, Wu Y, Kanchanawong P, Shroff H, & Waterman CM (2011) Microscopy in 3D: a biologist's toolbox. Trends Cell Biol. 21(12):682-691.
2.  Voie AH, Burns DH, & Spelman FA (1993) Orthogonal-plane fluorescence optical sectioning: three-dimensional imaging of macroscopic biological specimens. J. Microsc. 170:229-236.
3.  Fuchs E, Jaffe JS, Long RA, & Azam F (2002) Thin laser light sheet microscope for microbial oceanography. Optics Express 10:145-154.
4.  Huisken J, Swoger J, Del Bene F, Wittbrodt J, & Stelzer EHK (2004) Optical Sectioning Deep Inside Live Embryos by Selective Plane Illumination Microscopy. Science 305:1007-1009.
5.  Holekamp TF, Turaga D, & Holy TE (2008) Fast three-dimensional fluorescence imaging of activity in neural populations by objective-coupled planar illumination microscopy. Neuron 57(5):661-672.
6.  Huisken J & Stainier DY (2009) Selective plane illumination microscopy techniques in developmental biology. Development 136(12):1963-1975.
7.  Wu Y, et al. (2011) Inverted selective plane illumination microscopy (iSPIM) enables coupled cell identity lineaging and neurodevelopmental imaging in Caenorhabditis elegans. Proc. Natl. Acad. Sci. USA 108(43):17708-17713.
8.  Wu Y, Wawrzusin P, Senseney J, Fischer RS, Christensen R, Santella A, York AG, Winter PW, Waterman CM, Bao Z, Colón-Ramos DA, McAuliffe M, Shroff H (2013) Spatially isotropic four-dimensional imaging with dual-view plane illumination microscopy. Nat Biotechnol. 231(1):26-39.31(11):1032-1038.
9.  Kumar A, Christensen R, Guo M, Chandris P, Duncan W, Wu Y, Santella A, Moyle M, Winter PW, Colón-Ramos D, Bao Z, Shroff H (2016) Using stage- and slit-scanning to improve contrast and optical sectioning in dual-view inverted light sheet microscopy (diSPIM). Biol Bull. 231(1):26-39.
Download diSPIM specifications, documentation, software, and protocols: